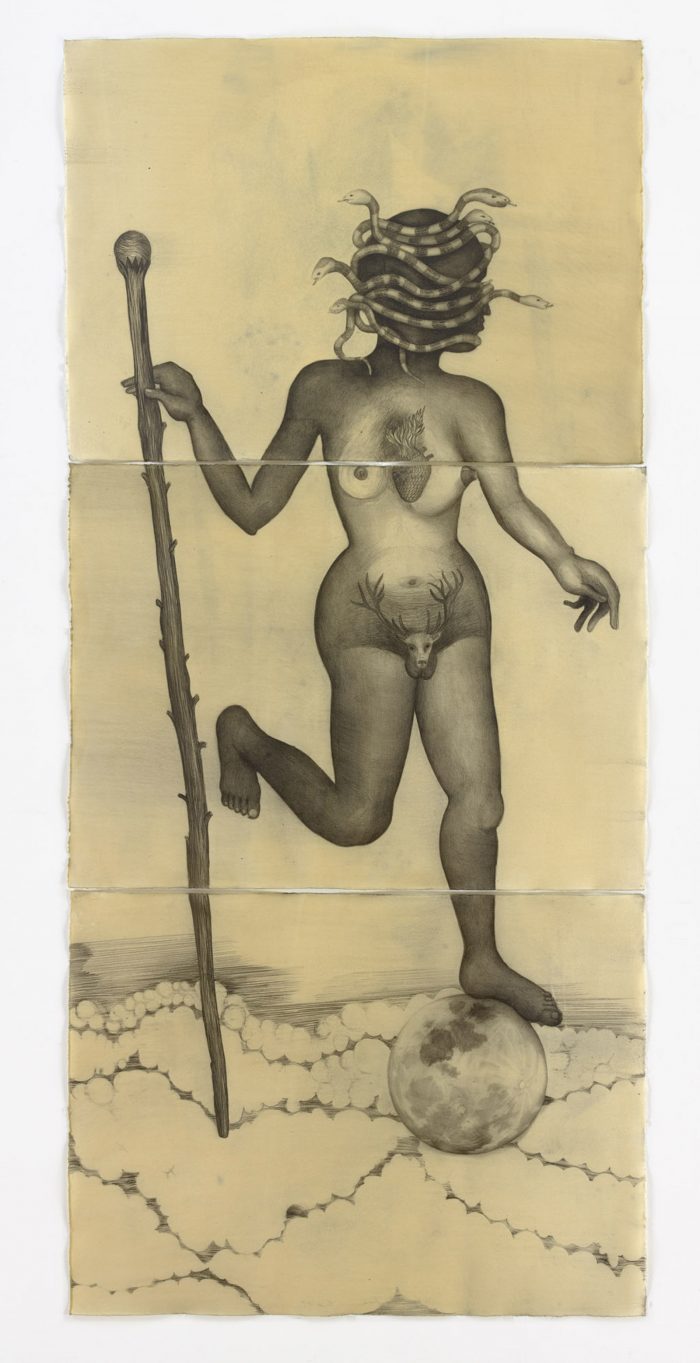 Drawing
Graphite and watercolor on paper, wax. 2015. Each drawing 78 x 107,5 cm
Exhibited at Kewenig Galerie, Palma de Mallorca, Sandra Vásquez de la Horra: Planetarium solo show.
In another triptych, the "Deidad Planetaria" (2015), the goddess of the planets, with a walking staff in hand, dances over a celestial body. Her Medusa head is wrapped in snakes to the point of blindness, her breast is adorned by a burning heart, and her pubic area is covered by a stag. This latter attribute is seen in numerous godly representations of mythological and spiritual attitudes, and it's the bisexual representation of feminine fertility or masculine power.

Sandra Vásquez de la Horra, in these new works, increasingly overcomes the limited pictorial area of her paper formats by combining several to create large-scale triptychs. She breaks the flatness of the pictures out into the three-dimensional so as to create drawn sculptures as narrative units that appear like stage areas or showcases. The observer could nearly miss seeing that an indicated space or landscape only rarely leads to a depth of field presented in perspective. The plasticity of her drawings is often exclusively the result of the precise texture of the surface structures the artist hatches with a characteristic line, sometimes coarsely or sometimes more delicately. Her pictures materialize dreams and are aimed at the inexplicable, closing the door on a world of unholy symbols whose personifications can be at once ironic, unexpected, obscene and profound.
Kewenig Galerie, 2015