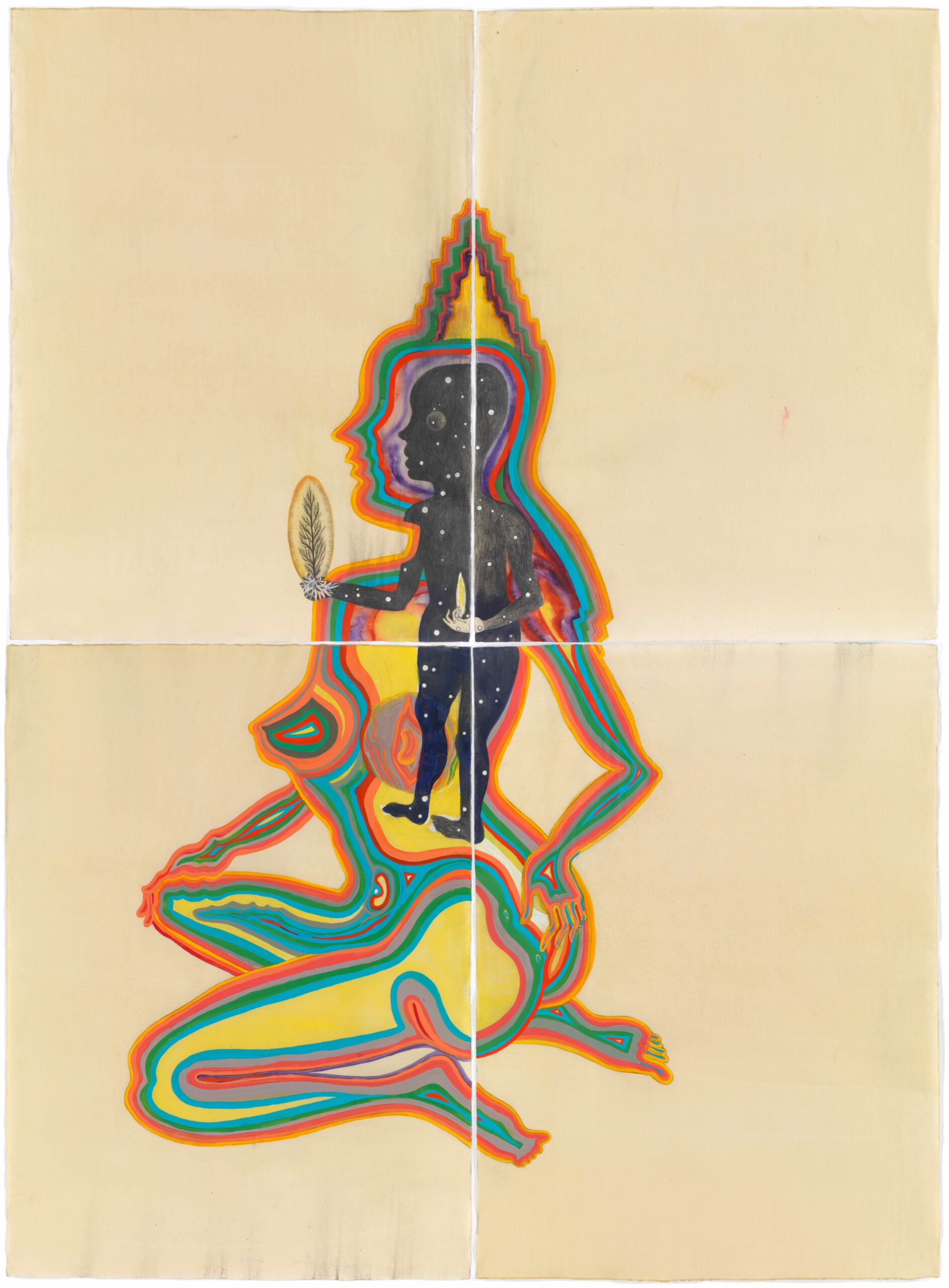 Exhibition: June 11 – July 22, 2022
Opening hours: Mo-Fri, 10am – 6 pm
Sandra Vásquez de la Horra is one of the 213 artists invited to the 59th International Art Exhibition of La Biennale di Venezia, The Milk of Dreams, curated by Cecilia Alemani. Now, Vasquez de la Horra takes centre stage in the exhibition at Galerie Haas Zürich. Drawing from history, folklore, mythology, sexuality and her experience of Chile's Pinochet dictatorship, the artist explores themes of sexuality, social hierarchy, repression, politics and religion. Using drawing – either on blank sheets or reused paper – the artist invents an extraordinary universe populated by a variety of creatures and symbols suggesting the influence of Surrealism, Dada and Francisco de Goya´s phantasmagoria. Mysterious, erotic and intimate, her drawings are then immersed in molten beeswax to achieve a timeless patina and a unique materiality. The unframed drawings are often simply nailed to the wall, juxtaposed edge-to-edge in a cloud-like shape. Such presentations mark the starting point of endless stories, each work building a conversation with the surrounding works and offering limitless scenarios. Vásquez de la Horra's venture into three dimensions translates into leporellos and paper sculptures in shapes that can evoke scale-model houses or theatre sets.
Photos: André Hengst, On Eyes Photography studio
The exhibition will be accompanied by a catalog with texts and contributions by Katya Garcia Antón. Katya Garcia-Antón is director of the Office for Contemporary Arts Norway, commissioner and co-curator of the transformation of the Nordic Pavilion into The Sámi Pavilion La Biennale di Venezia 2022. As from August 2022 she becomes director of the Northern Norway Art Museum.
Designers catalog: Role Studio
Writer catalog: Katya Garcia-Antón
Photographer: André Hengst
Gallery: Galerie Haas Zürich, Anna Helwing and Virginia Fasanelli
Artist Talk –  Saturday, June 11, 5-6pm.
It´s a VIP event organized by Zurich Art Weekend, RSVP only.
Opening Day – Friday June 10, 2022 l 6-8 pm
Drinks with the artist – Saturday June 11, 2022 l 6-8 pm
Gallery Brunch – Sunday 12, 2022 l 11am – 1pm
Special Opening Hours during Zurich Art Weekend
Friday June 10, 2022 l 10am-8pm
Saturday June 11, 2022 l 11am – 8pm
Sunday June 12, 2ß22 l 11am – 6pm
All these activities has been organized also in occasion of Zurich Art Weekend, where here in Zürich most galleries are open and offer a special program: zurichartweekend.com/weekends/2022/june/exhibitions/galerie-haas