September 10 – October 29, 2022
Bendana | Pinel Art Contemporain
Bendana | Pinel Art Contemporain is pleased to present Sueños lúcidos the first solo exhibition of Sandra Vásquez de la Horra at the gallery.
Sandra Vásquez de la Horra's drawings are influenced by film, fairy tales as well as from her personal background. Vasquez de la Horra completes her works by immersing them in bolten beeswax. This process gives her work a unique materiality and emphasises the pencil line with ambiguous depth.
The traditions and myths of her Chilean origins and the influence of Latin-American magic-realist literature are essential in her artistic practice. Religion, mythology, sexuality and the bizarre, reverberate and merge together, trapped beneath the wax coating of her drawings. Her works deal with borderline experiences, femininity, fear and death, as well as poetry, reawakening demons, ghosts, creatures of myth and mystery.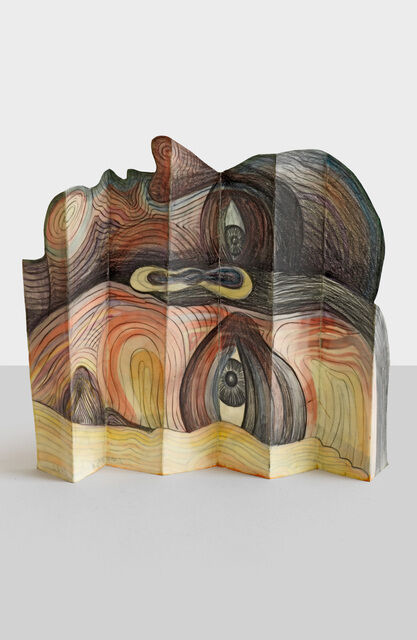 Following her three-dimensional houses that engage the viewer with the return to her childhood home where the internal structure is inaccessible, Vasquez de la Horra continues combining sculpture and painting with the use of leporelli sheets which once complete are then folded and dipped in beeswax to give the drawings their stability.
In the new series of graphite, watercolour and wax-on-paper, she employs accordion folds to bring her figures She breaks the flatness of the pictures out into the three-dimensional so as to create drawn sculptures as narrative units that appear like stage areas or showcases. The observer could nearly miss seeing that an indicated space or landscape only rarely leads to a depth of field presented in perspective. The plasticity of her drawings is often exclusively the result of the precise texture of the surface structures the artist hatches with a characteristic line, sometimes coarsely or sometimes more delicately.
Her works materialize dreams and are aimed at the inexplicable, closing the door on a world of unholy symbols whose personifications can be at once ironic, unexpected, obscene and profound.
The series "Sueños lúcidos" interpret a type of dream in which the dreamer becomes aware that they are dreaming while dreaming. The dreamer may gain some amount of control over the dream characters, narrative, or environment; and in her own lucid dreams, Sandra Vásquez de la Horra points out:
"The night swallowed the day. Without knowing where I was, I barely recognized the body in which I moved."