Du 19/09/2020 au 10/01/2021
L'idée de cette exposition est née il y a presque un an et sa conception a débuté il y a plusieurs mois, bien avant que ne se déclare la pandémie de COVID-19.
Certains thèmes et certaines œuvres de ce projet entretiennent une résonance avec les mois éprouvants que nous venons, collectivement, de traverser. La question s'est posée de maintenir ou non cette exposition mais nous avons choisi de conserver ce projet tel qu'il avait été conçu à l'origine, considérant aussi que les œuvres qu'il réunit constituent pour certaines les témoignages et les signes d'une prise de conscience générale et vitale qu'il nous faut développer dans les années futures.
Avec son film The Evil Eye (« le mauvais œil »), Clément Cogitore s'est vu décerner en 2018 le prestigieux Prix Marcel Duchamp par le Centre Pompidou, obtenu avec le concours du FRAC Auvergne qui fut chargé de défendre sa candidature. The Evil Eye est ici placé au cœur de l'exposition, sa bande-son traversant tous les espaces, dans un dialogue avec les autres œuvres, telle une litanie présageant l'avènement d'une inéluctable fin du monde portée par la rémanence de grands récits mythologiques, transfigurée par des dizaines d'images à vocation publicitaire. Élégie poignante empruntant autant aux grands mythes qu'aux méthodes de manipulation des foules les plus éprouvées par la publicité comme par la propagande, The Evil Eye en appelle aux figures anciennes de la sorcière, de la prédicatrice et de l'oracle pour éclairer notre époque d'une lumière prémonitoire et funeste.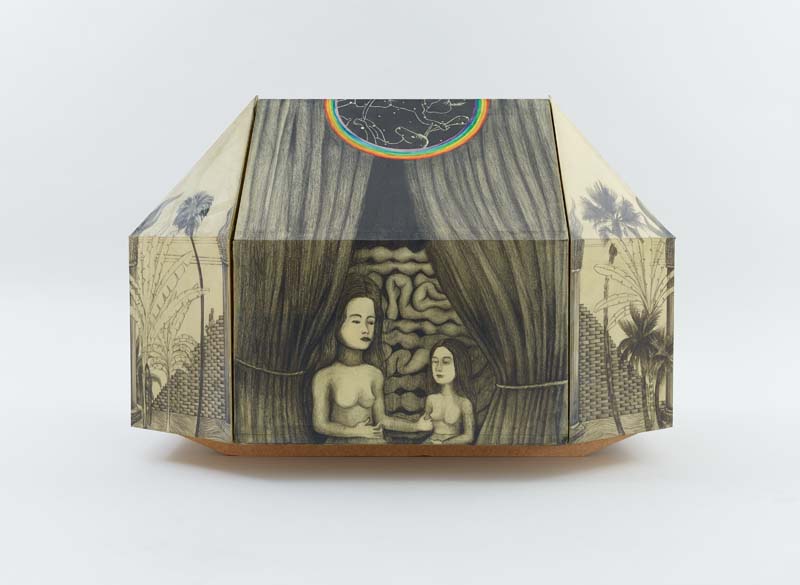 Le mauvais œil, figure archaïque de l'anathème, trouve dans cette exposition ses déclinaisons les plus diverses. Puisant dans les représentations enracinées dans la croyance et le mythe, le mauvais œil se manifeste aussi par l'évocation de grandes tragédies historiques – dévastation guerrière, terrorisme, désastre économique – et par l'omniprésence de figures féminines énigmatiques, prophétiques ou menaçantes qui, telles les Parques de la mythologie romaine, semblent tisser les fils d'une destinée fatale. Le mauvais œil en appelle autant aux superstitions enracinées dans l'imaginaire collectif qu'aux phénomènes de croyances les plus actuels véhiculés par les pronostics – réalistes ou fantasmés – d'effondrement inéluctable de notre civilisation.