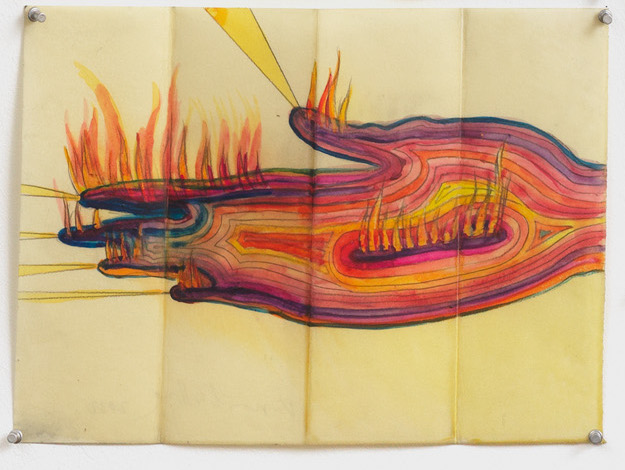 In her show for ARCO 2022, the artist focuses her attention on the figure of the woman as a source of life-creating energy. Through unconventional supports and using three-dimensionality, Sandra transports us through her characteristic dark imagery and mystical poeticism to worlds that aim for both artistic and social subversion. Femininity is presented as the starting point of any entity in a close bond with mother Earth and her fertility. Her arms, which open in a warm and familiar gesture of embrace, hide the nature that we all carry within us: that undeniable and intrinsic feminine part that human beings possess by the mere fact of having been born.
All Sandra's work revolves around the universal energies that influence and determine human relationships; the constellations, the horoscope, the auras…etc. These concepts are so closely linked to the individual that it would make no sense to conceive of her art without them.
Through the colours of the rainbow, an expression of the multiple emotional facets of the soul's journey through life, a threshold is found between the two feet.
A portal, resembling a cavern, through which one accesses one's deepest interiority – one's soul in colour – through the corporeal materiality of our human figure at each step/stage of our life journey.
The gaze is also another door through which to "sneak" into the soul, the conception of the eyes as suns takes on great importance in its relation to the stars and their planetary significance. The light emanating from a sun with its rays has the same force as a gaze, energetic, powerful and, above all, natural.
"I am Sun, I am Moon, I am Sea:" The woman, in each of its phases, is linked to Mother Earth in the natural and organic cycle of everything biological and brings that spiritual connection that evokes the Chilean culture and roots of the artist, where the human-natural alignment is essential for personal fulfilment.
Galería SENDA presents Sandra Vásquez de la Horra with an untitled exhibition of 10 works that introduce the viewer to the carnal and psychological concerns of the artist with a personality and independence that never goes unnoticed.